Warm Spinach Salad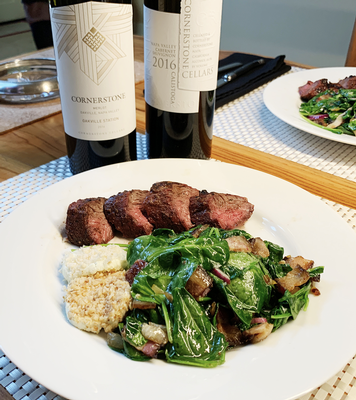 Measurements:
Imperial (US)
Ingredients
1 lb Spinach, stems trimmed
1/2 small red onion, sliced into rings
6 ozs Fresh, mild goat cheese (in log form)
1/3 cup nuts, finely chopped
1 tsp juice from sweet orange
1 tsp whole grain mustard
1 tsp champagne vinegar
1/2 tsp Kosher salt
4 tbsps olive oil, divided
1/2 small sweet white onion, diced
3 slices thick cut bacon
Directions
Place oven rack on the top rung. Preheat oven to 400 F.
Destem and place spinach in a large bowl. Toss in red onion. Set aside.
Heat 2 tablespoons of olive oil in a large heavy skillet over medium-high heat. Add white onion; sauté until slightly brown and softened about 7 minutes.
Add bacon and cook to medium, rendering the fat.
While onions and bacon are cooking, cut goat cheese into ½" slices to form disks. Run hot water over the knife to get a clean cut. Pat nuts all over each disk to coat. Bake on a small baking sheet on the top rack of oven until heated, about 5 minutes.
Whisk together orange juice, mustard, vinegar, and salt in a large bowl. Add 2 tablespoons of oil and whisk until blended. Set aside.
Once the bacon is done, place a large handful of spinach in the sauté pan, and quickly toss to lightly coat the spinach and begin the wilt. Remove quickly and place in a large bowl (spinach will continue to wilt). Take the next handful of spinach and quickly toss in the sauté pan, then move to a salad bowl. Take the remaining spinach and quickly toss in the sauté pan, then add to the salad bowl.
Drizzle the dressing and give it one more light toss.
Divide among salad plates. Add salt and pepper to taste.
Remove cheese disks from the oven and use a torch to slightly brown each disk. Carefully transfer 2 goat cheese disks to each salad.
Serve warm.
LET'S KEEP IN TOUCH
Stay connected with Cornerstone Cellars by joining our list and be informed of releases, events, tasting room offerings and exclusive offers.