Stuffed Mushrooms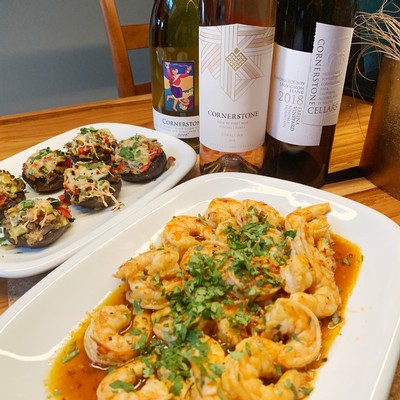 Recipe Date:
April 30, 2020
Measurements:
Imperial (US)
Ingredients
12 Baby Bella mushrooms, about the same size, wiped with damp paper towel
2 tbsps olive oil
1 tbsp butter
1/2 large sweet onion, diced
1 medium zucchini, diced
1/2 red pepper, diced
2 - 3 cloves garlic, minced
1 pinch dried oregano, crushed
1/2 tbsp basil
dash of crushed red pepper flakes
fresh ground pepper to taste
1/4 cup panko
1/4 cup shredded mozzarella cheese
1/4 cup grated Parmesan cheese, plus more for garnish
Directions
Preheat your oven to 375 degrees.
Line a sided baking sheet with parchment paper.
Remove stems from mushrooms and dice, set aside.
Rub each mushroom cap with a bit of olive oil and set them on the baking sheet, stem side up.
In a large bowl mix together panko and all seasonings such as oregano, basil, red pepper flakes, parmesan, and salt, and pepper. Set aside.
In a sauté pan over medium-high heat, add the olive oil and butter, then the onions.
Saute for 2-3 minutes, then add diced mushroom stems.
Sauté for 3 or 4 minutes, then add the red pepper and zucchini and cook until zucchini begins to soften.
When the onions have turned translucent, add the garlic.
Remove the pan from the heat and add the rest of the ingredients, up to and including the Mozzarella. Stir to combine.
Let cool a bit, then stuff each mushroom.
Sprinkle parmesan on top.
Bake until the parmesan cheese is melting, and the mushrooms have sweat a little bit (about 20 minutes).
Remove from the oven and top with a pinch of grated parmesan. Garnish with a pinch of basil.
Serve warm or room temperature.
LET'S KEEP IN TOUCH
Stay connected with Cornerstone Cellars by joining our list and be informed of releases, events, tasting room offerings and exclusive offers.