Shrimp Diablo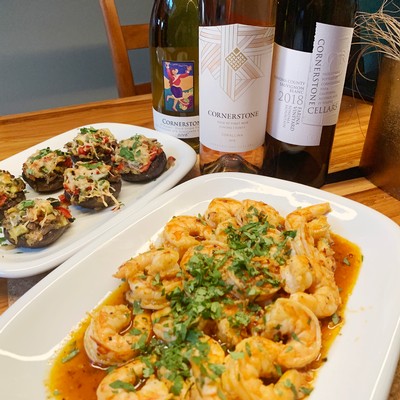 Recipe Date:
April 30, 2020
Measurements:
Imperial (US)
Ingredients
1 lb Shrimp (25 count), peeled and deveined
4 Cloves of garlic, finely minced
1 tsp Sweet Spanish paprika
1 tsp Red pepper flakes
2 ozs cognac (you many substitute dry sherry instead)
1/4 cup virgin olive oil
1/2 lemon or lime, juiced
3 tsps chopped fresh parsley or cilantro
1 baguette
Directions
One of the most common "tapas" of Spain, this is quick, easy and FULL of garlic flavor.
In a sauté pan or heavy frying pan, warm the olive oil over medium heat. Add the garlic and red pepper flakes and sauté for about one minute or until they begin to brown. Be careful not to burn the garlic.
Raise the heat to high and add the shrimp, lemon/lime juice, sherry or cognac, and paprika. Stir well, then sauté, stirring briskly until the shrimp turn pink and curl - about 3 minutes.
Remove from heat and transfer shrimp with oil and sauce to a warm plate or serve right from the pan. Season to taste with salt and freshly ground pepper. Sprinkle with parsley. Serve with sliced baguette
LET'S KEEP IN TOUCH
Stay connected with Cornerstone Cellars by joining our list and be informed of releases, events, tasting room offerings and exclusive offers.