Nina's Stuffato Zucchina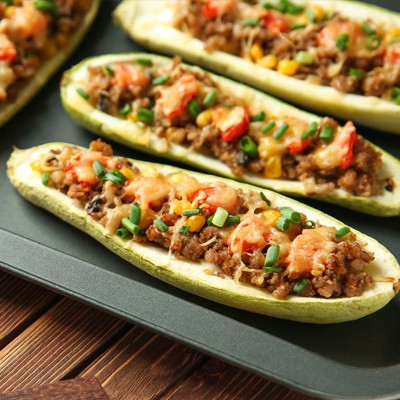 Recipe Date:
August 5, 2020
Measurements:
Imperial (US)
Ingredients
Uncooked Calabrese sausage, approximately one sausage per zucchini (Italian sausage can be substituted.)
Zucchinis, medium to large
4 Tbsp olive oil, divided
½ cup red, orange, or yellow bell pepper, about half cup chopped per zucchini
½ cup white onion, about half cup chopped per zucchini
½ cup fennel, about half cup chopped per zucchini
1 tsp dried basil per sausage
½ tsp dried oregano per sausage
1 garlic clove per sausage, finely chopped
Hot pepper (or chili oil) to taste
Salt & pepper to taste
Grated Italian cheese for topping
Directions
Preheat oven to 325.
Half zucchinis and scrape out seeds and pulp. Season lightly with salt and pepper. Lightly oil a cookie sheet and place zucchinis down on the cut side. Bake 15 – 30 minutes depending on the size of the zucchinis. Use a fork to test if done. The fork should go in without effort, but the zucchini should not be mushy. Set aside until stuffing is ready.
While zucchinis are baking prepare the stuffing. Remove the meat from casing and sauté in 3 Tbsp olive oil until browned. Place meat in a bowl and set aside.
Add oil to the frying pan if needed and sauté vegetables and spices. When tender, add cooked sausage meat back to the pan and mix the stuffing.
Increase oven temperature to 375 and lower rack to middle of the oven.
Using a spatula, carefully turn zucchinis onto their backs. Use a spoon to fill each zucchini with stuffing. Bake 15 – 20 mins until warm. Sprinkle with cheese during the last 5 mins of baking.
Note - If sausage is precooked, remove casing if possible and chop meat into ¼" cubes. Sauté with vegetables and spices until vegetables are tender.
LET'S KEEP IN TOUCH
Stay connected with Cornerstone Cellars by joining our list and be informed of releases, events, tasting room offerings and exclusive offers.