Nina's Revolutionary Meatballs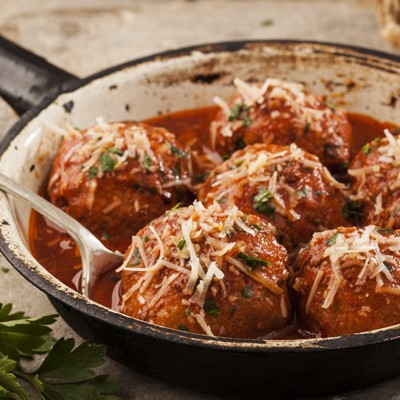 Recipe Date:
August 5, 2020
Measurements:
Imperial (US)
Ingredients
1 lb ground turkey
1 lb ground beef or pork
9 oz box frozen spinach, defrosted, chopped, squeeze out water (approx. 3/4 cup cooked spinach)
4 Tbsp honey
4 Tbsp olive oil
3/4 cup raisins, chopped well
2 Tbsp fresh ginger, peeled and grated
3 Tbsp fresh sage, finely chopped
3 Tbsp fresh rosemary, finely chopped
2 Tbsp fresh garlic, finely chopped
1 Tbsp fresh basil, finely chopped
1 Tbsp fresh oregano, finely chopped
1 Tbsp onion powder
1 tsp salt
Directions
Preheat oven to 450. Place rack in the upper third of the oven (not the top).
Combine all ingredients and mix well.
Shape meatballs 1 ½ to 1 ¾ inch diameter and place on a well-oiled cookie sheet without touching.
Bake 5 mins, take out the sheet and turn meatballs over with tongs.
Return to oven and bake another 5 mins.
Remove from oven and move meatballs to a plate with paper towels to blot oil.
Mama Mia, they're delicious!!!!
Option: You can use less honey and/or raisins if you are watching sugar intake.
LET'S KEEP IN TOUCH
Stay connected with Cornerstone Cellars by joining our list and be informed of releases, events, tasting room offerings and exclusive offers.