Mushroom Soup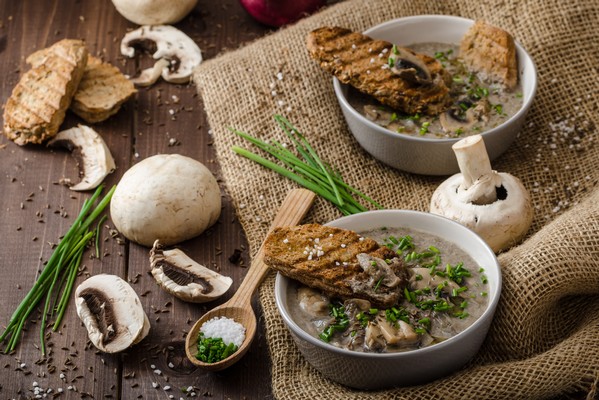 Recipe Date:
April 14, 2020
Measurements:
Imperial (US)
Ingredients
8 tbsps Butter, divided
2 cups Onion, finely diced
2 garlic cloves, finely diced
6 ozs Cremini mushrooms, coarsely chopped
6 ozs Oyster mushrooms, coarsely chopped
6 ozs Shitake mushrooms, stemmed, caps chopped
6 ozs King Trumpet mushrooms, sliced into 1/4" pieces
1 tbsp Fresh thyme, chopped
3 tbsps Brandy
2 tbsps All-purpose flour
4 cups Beef broth
2 tbsps Fresh lime juice
2 tbsps Cilantro, chopped for garnish
Directions
This one of my very favorite (and most satisfying) soup recipes. It requires a little bit of prep time, but it's so flavorful and pairs perfectly with big red wines. This savory soup, a piece of crusty bread, and a glass of our Calistoga Cabernet make a hearty meal. Our 2016 Sta. Rita Hills Pinot Noir would also pair perfectly. I often double this recipe, so I'll have some leftover for another day.
Melt 6 tablespoons of butter in a large pot over medium-high heat.
Add onions; sauté until golden, about 5 min.
Add the Cremini, Oyster and Shitake mushrooms and thyme; sauté until mushrooms begin to brown, about 8 min. Set aside.
Add King Trumpet mushrooms and sauté with garlic in 2 tablespoons of butter
Combine all mushrooms in a large pot
Add brandy; stir 30 seconds, then mix in flour
Slowly stir in broth; bring soup to boil
Reduce heat; simmer uncovered 10 minutes
Add lime juice
Season with salt and pepper
Ladle into bowls and garnish with cilantro
Note
You can make this soup a day in advance, store in the refrigerator, and heat before serving. You can substitute any of the mushrooms listed for another more readily available type of mushroom.
LET'S KEEP IN TOUCH
Stay connected with Cornerstone Cellars by joining our list and be informed of releases, events, tasting room offerings and exclusive offers.