Flatbreads: A World of Possibility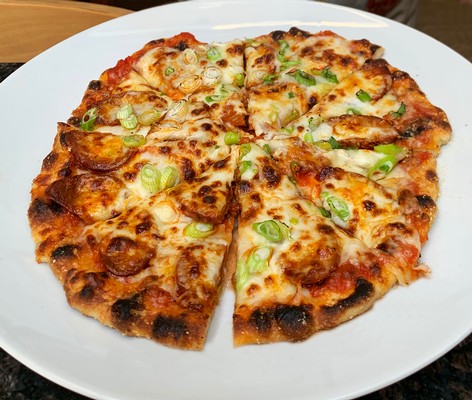 Recipe Date:
May 21, 2020
Measurements:
Imperial (US)
Directions
Flatbread is one of the simplest forms of bread and nearly every culture around the world has its own version. From wraps and sandwiches to pizzas, most cultures have some form of flatbread.
Crust
You can certainly make your own dough but for ease and consistency I purchase the dough. First cut it into 4 or 6 pieces. You can form the crusts using flour, but I found that using olive oil on the dough really helps it spread out and it also helps make a nice crispy crust. I start the out on a cutting board and then put it in a 10" nonstick pan and continue spreading to the edges using fingers. Then I bake or toast them in a pan until just starting to get brown spots. Now they are precooked and just need to go under the broiler with toppings.
Primavera (no sauce or pesto)
Asparagus
Broccoli
Squash
Cherry Tomatoes
Green onions
Tarragon (or arugula)
Parmesan Cheese, mozzarella, white cheddar
​Pairing: Sauvignon Blanc or Rosé
Alsatian (no sauce)
Bacon/prosciutto
Caramelized Onions
Gruyère Cheese
Pairing: Pinot Noir or Rosé
Classic Margherita (Marinara Sauce)
Tomatoes
Fresh Basil
Buffalo Mozzarella Cheese
Pairing: Rosé
Salmon & Goat Cheese (olive oil)
Goat Cheese (herbed or plain)
Salmon
Capers
Pairing: Sauvignon Blanc or Rosé
Additional Toppings (Marinara or Pesto)
Sausage/Chorizo/Green Onion Pairing: Merlot or Cabernet Sauvignon
Mushrooms/Onions Pairing: Pinot Noir or Merlot
BBQ Chicken/Mozzarella Pairing: Pinot Noir or Merlot
Garlic Shrimp/Parmesan Pairing: Sauvignon Blanc
LET'S KEEP IN TOUCH
Stay connected with Cornerstone Cellars by joining our list and be informed of releases, events, tasting room offerings and exclusive offers.