Dry Rub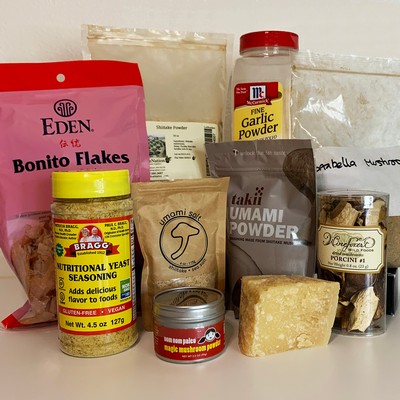 Recipe Date:
June 10, 2020
Measurements:
Imperial (US)
Ingredients
1 cup Shitake powder. Dried Shitake mushrooms that have been ground to a powder.
1/4 cup or more Porcini Powder. Available at most grocery stores that have bulk spices
1/3 cup or more garlic powder
Directions
The dry umami rub takes a little work but will transform your cooking. This is mostly nucleotide based.
Toast gently in nonstick stick pan until it turns golden. Stir with spatula. Might clump up a little but easily broken up. This is a real gentle mushroomy rub that works best by combining it with the wet rub or ingredients from the glutamate list.
Optional - 1/4 cup yeast extract. This is a glutamate; you will have a complete umami bomb.
Optional - 1 tablespoon MSG. Perfectly safe for most people although some are sensitive to it. I think it is critical for umami if you don't use yeast extract If you are not sensitive to Parmesan and aged cheese, ketchup, soy sauce you can use MSG. You can use up to 40% less salt. (adding MSG makes it a complete umami base). Good for those on a salt-restricted diet. I rarely add salt when I use the umami rubs
Optional - Onion Powder. Use carefully, can overpower the other ingredients.
Optional - Portobella Powder
Optional - Ground smoked pepper
Optional - Some smoked paprika
Optional - A little Moroccan spice, Five Spice, or Curry for interest.
Optional - Worcestershire powder
You can also add herbs, salt, pepper, and/or other spices to this mix if you wish to embellish.
LET'S KEEP IN TOUCH
Stay connected with Cornerstone Cellars by joining our list and be informed of releases, events, tasting room offerings and exclusive offers.