Spicy Ginger Carrot Soup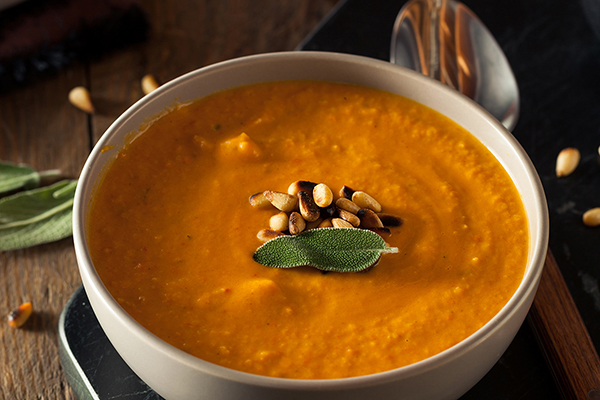 Recipe Date:
March 18, 2020
Measurements:
Imperial (US)
Ingredients
2 tbsps Olive oil
1 1/2 tbsps Thai fish sauce
3 tbsps Unsalted European style butter
4 tbsps Fresh lime juice
1 Small yellow onion, chopped
2 tsps Seasoned rice-wine vinegar
1 Small white onion, chopped
2 tbsps Smooth peanut butter
6 Cloves garlic, peeled, chopped
2 tbsps Brown sugar
4 tbsps 4 tablespoons fresh ginger, peeled, chopped
1 tsp 1 teaspoon toasted sesame oil
1 1/2 lbs Carrots, sliced
2 1/4 tsps Sesame chili oil (set ¼ teaspoon aside for crème fraîche garnish)
4 cups Vegetable stock
1/2 cup Coconut milk
1 1/2 cups White wine
1/2 cup Heavy cream (optional)
1/4 tsp Red pepper flakes
4 tbsps Sesame seeds, toasted
1/2 tsp Turmeric
2 tbsps Cilantro, chopped
1/2 tsp Smoked paprika
4 tbsps Crème fraîche
Directions
In a large (6 quart) stockpot, heat oil and butter over medium-high heat. Add white and yellow onions and sauté until translucent (5-6 minutes). Add garlic, ginger, and carrots and sauté (another 5-6 minutes).
Add vegetable stock, white wine, red pepper flakes, turmeric, smoked paprika, Thai fish sauce, lime juice, vinegar, peanut butter, brown sugar, sesame oil, chili oil, coconut milk and cream and bring to a low simmer. Cover and slowly simmer for 25-30 minutes.
Let cool slightly. Add cream. Purée with an immersion blender or transfer to a food processor or blender. Purée until smooth. Season to taste.
Spicy Crème Fraîche
Add ¼ teaspoon of sesame chili oil to 4 tablespoons of Crème Fraîche and mix.
Garnish: Toasted sesame seeds, chopped cilantro
This soup can be prepared in advance and stored in the refrigerator until ready to serve. To serve, bring to a low boil, ladle into bowls, place a small dollop of spicy crème fraîche (tablespoon) in the center of the bowl, and sprinkle with chopped cilantro and toasted sesame seeds.

LET'S KEEP IN TOUCH
Stay connected with Cornerstone Cellars by joining our list and be informed of releases, events, tasting room offerings and exclusive offers.